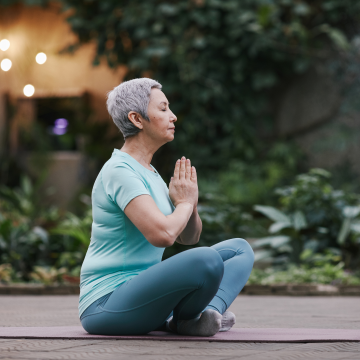 August is National Wellness month. I tend to focus many of my blog posts on various forms of wellness. I believe that it is never too late to introduce healthy living options into our lives. When families come to us seeking help for their loved ones, they are most likely already experiencing a severe decline in their health and are looking to us to assist them with their challenges. We are happy to do so, but why not encourage changes that might improve their quality of life? As we create a "Care Plan" for our clients, we also address Wellness Options. The assumption that health, wellness, and disability cannot coexist is a myth.
Wellness is Self-Care. And Self-Care helps to manage stress, promote happiness, and prevent or manage chronic illness. While seeking medical advice and treatment for chronic disease is essential, you can also do things to improve your wellness.
People often think about wellness in terms of physical health – nutrition, exercise, and weight management. But it is so much more. The eight dimensions of wellness are Physical, Emotional/Mental, Environmental, Financial, Intellectual, Occupational, Social, and Spiritual. Finding balance in these areas allows for a better quality of life, and neglect of any of these dimensions can lead to adverse effects of overall health.
If you want to be successful at making wellness changes in your life, it is best to make small changes over time. Here are some suggestions for creating balance in each dimension:

Physical
Exercise daily
Get plenty of sleep
Eat a variety of healthy foods
Control your meal portions
Quit smoking
Use alcohol in moderation
Emotional
Tune into your thoughts and feelings
Create an optimistic attitude with positive self-talk
Learn time-management skills
Accept and forgive yourself
Intellectual Development
Read
Take a course
Seek out people who challenge you intellectually
Social
Cultivate healthy relationships
Contribute to your community/volunteer
Share your talents and skills
Spiritual
Explore your Spiritual Core
Spend time alone/Meditation/Walks in nature
Be fully present in everything you do
Allow yourself and others the freedom to be who they are
When faced with a challenge, look for opportunities to learn and grow
Environmental
Stop your junk mail
Conserve water
Minimize chemical use
Reduce, Reuse, Recycle
Occupational
Explore Career Options
Create a vision for the future
Be open to change and learning new skills
If you are retired, choose opportunities to volunteer

Life is the longest thing you will ever do. A balanced life is essential for a happy and healthy life full of passion and enjoyment.