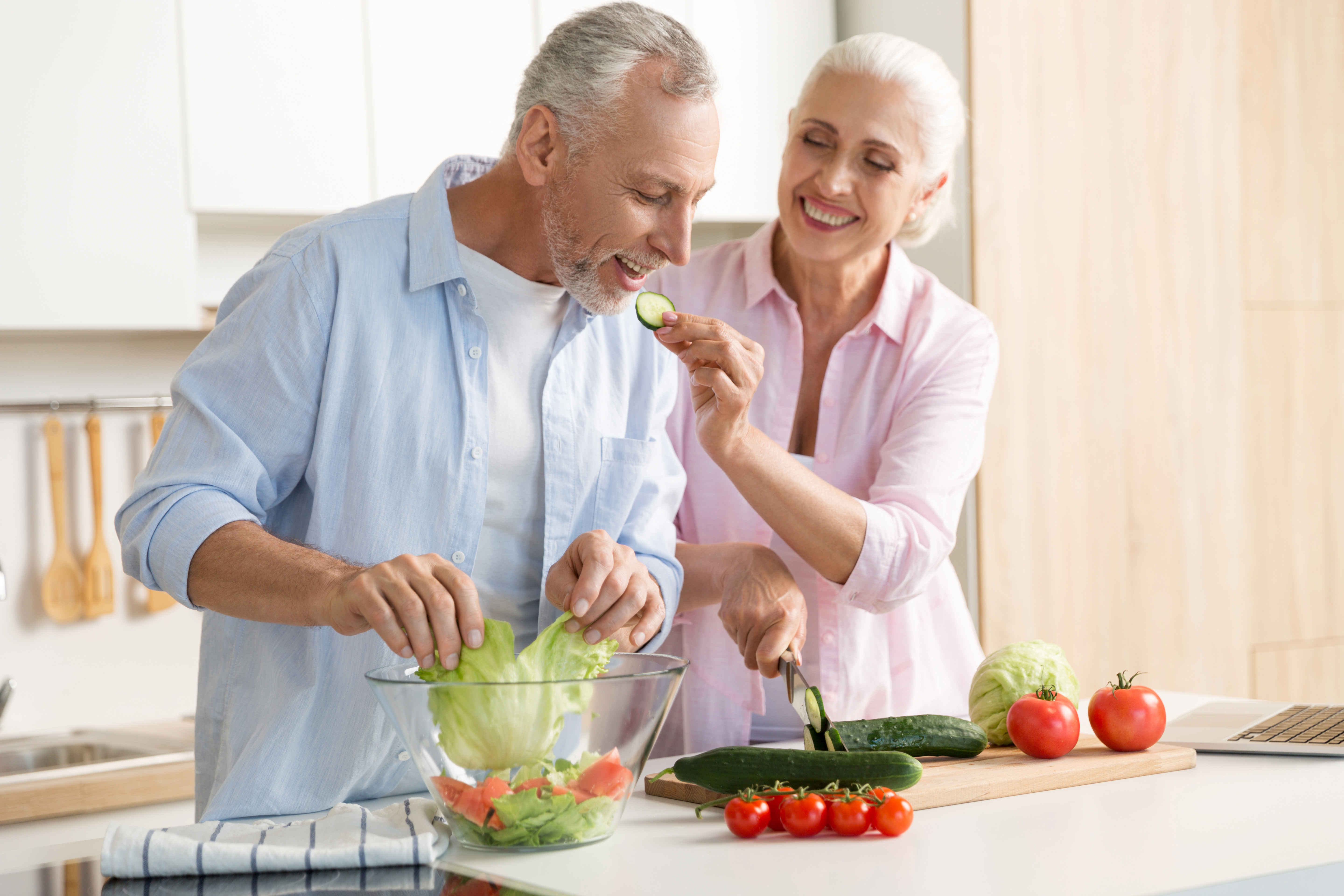 Senior nutrition is always a hot topic, especially because as we age our preferences may change or diminish completely. This article from "A Place for Mom", has 9 tips for making senior food better and more interesting for your loved ones.
---
Cooking for Seniors: How to Make Great Tasting Food for the Senior Palate
Healthy senior nutrition doesn't have to be bland, when you can bump up the flavor. We've put together the best tips on how to make nutritious and great tasting meals for the elderly. Learn more.
One of the ongoing challenges for caregivers is contending with the changing reality of seniors' nutritional needs. Older adults need a different balance of nutrients to ensure physical and mental health, and there are also medications to consider that can interfere or interact with the drugs seniors take. On top of all that, the elderly may have trouble processing some foods, as senses of smell and taste get weaker with age. All of this can add up to major frustration for caregivers and family members trying to provide older loved ones with enough nourishment. Fortunately, healthy senior meals don't have to be devoid of flavor or excitement.
Check out our tips for some nutritious alternatives that will kick the flavor up a notch and have your whole family cleaning their plates.
1. Amp up the Flavor Without Adding Salt
Fresh herbs, spices, onions, garlic, ginger and cooking with wine or acidic flavors like citrus or vinegar can all add an intense kick of flavor without relying on the less healthy standby of adding salt.
2. Incorporate Soft, Moist Foods like Soups, Stews and Braises
The physiological changes that seniors experience as they age can lead to difficulty chewing and swallowing — from reduced saliva as well as dental changes like dentures or lost teeth. Moist foods don't require as much chewing and can be a lifesaver. As a bonus, many stews and soups can be made in a slow cooker, which frees up time and provides leftovers. Lastly, soups are good for hydration.
3. Take a Cooking Class
Generally speaking, a cooking class at a local community center or culinary school can help increase your repertoire and ability to cook appealing meals. Beyond that, there are also cooking classes designed specifically for caregivers of seniors, teaching the essential skills of cooking healthy, tasty meals that meet elderly nutritional needs. Check local cooking schools, community education programs, or ask the Area Agency on Aging for local resources.
4. Substitute Potato for Cream in Creamy Dishes
Cream is high in fat and calories, even though it tastes so good. Fortunately, you can get that same thick, rich feel by adding peeled, diced potato to your soup during cooking. Once it's pureed, you'll have a soup with all of the creamy texture but almost none of the fat.
5. Have Your Loved One Choose the Recipes
This tip comes courtesy of the Visiting Nurse Service of New York: "Buy a simple recipe cookbook or food magazine with lots of pictures and allow your loved one to choose recipes that are appealing to him or her." You can always adapt the recipes to align more closely with appropriate senior nutrition.
6. Include Comfort Foods in the Meal Rotation
One of the problems caregivers may encounter is a lack of appetite or interest in eating. Fortunately, nutrition research is yielding some insights into how to address this issue. According to a 2012 study in Sweden, "habits and preferences that are formed during childhood and youth are difficult to change in adult life," meaning seniors often gravitate towards foods they grew up with. So, an option is to rely on comfort foods that they used to eat when they were younger, or repeat recipes they particularly like. Just remember to make healthful substitutions as needed to ensure proper nutrition.
7. Replace Unhealthy Fats with Good Fats
Just because mom's on a heart-healthy diet doesn't mean she can't eat any fats at all. The key is to avoid trans fats and saturated fats, and replace them with monounsaturated and polyunsaturated fats that help raise "good" cholesterol and protect against heart disease. Some sources of good fats include olive oil, avocados, salmon, flaxseed, canola oil, nuts, soy milk and tofu.
8. Supplement Meals with Healthy Snacks and Smoothies
Smoothies are one of the best ways to "sneak in" extra fruits and vegetables, especially if you have trouble getting your loved one to eat their daily allotment. Smoothies are tasty, sweet, and easy to drink, making them ideal for seniors who have problems with oral health. They are also a fantastic way to increase hydration and protein intake, especially if you add protein powder.
9. Add Naturally Sweet Foods Instead of Sugar
If your loved one has a sweet tooth, try this tip from HelpGuide.org: "Older adults tend to retain the ability to distinguish sweet tastes the longest, leading some to overindulge in sugary foods and snacks. Instead of adding sugar, try increasing sweetness to meals by using naturally sweet food such as fruit, peppers, or yams."