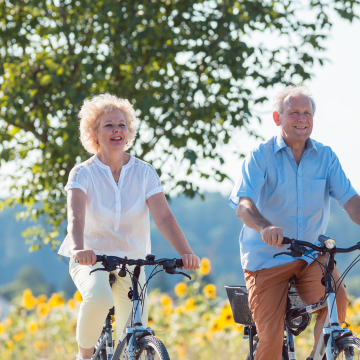 Spring is in the air! Last week's warmer weather got me thinking about what a great time of year it is to take our clients out to enjoy the outdoors! In addition to the physical benefits of natural sunlight and fresh air, being outside provides mental and emotional benefits. Experiencing the outdoors increases socialization and provides opportunities for us to interact with children and animals. In this week's column, I'd like to share some of my favorite "senior-friendly" activities:
Catch a Game!: Go to a grandchild's soccer or baseball game, or a local sporting event. Your seniors will love being around the children and soak up some Vitamin D simultaneously. Buy some tickets to a professional ballgame. There is nothing like a baseball game to bring back happy memories from their youth. After all, it is America's favorite pastime. If possible, purchase seats in the shade and phone ahead to inquire about handicap accessibility. Planning ahead will make this a safe outing full of new memories!
Take a Stroll: A walk around the neighborhood provides much-needed exercise. Enjoy being in the moment, looking at nature, and talking about memories of time spent living in the community. Start out slow and work up to longer outings if possible. Don't forget to stop and smell the roses along the way.
Visit a Local Park: There are so many local parks to enjoy. Plan a picnic and make a day of it! We recently purchased a membership to the Edsel and Eleanor Ford House and Greenfield Village for one of our clients and her caregiver. They are so excited to enjoy some time exploring both. A trip to your local zoo would be a great idea as well.
Plan a Picnic: While a picnic at the park sounds like a great time, planning an outdoor picnic in your own backyard will also work. The important thing is getting outside and spending some time in the sun and in nature.
Parades, Festivals and Fun: From Memorial Day parades to Fourth of July Fireworks, there are so many community events in the spring and summer that allow elders to get outside and be part of the crowd. Look in your local listings for outdoor musical performances, art or car shows, or flea markets, and estate sales.
Time for Ice Cream: Summertime is the best time to visit your local Ice Cream Parlor. If the weather is nice, take a seat on their patio. Or enjoy lunch at their favorite outdoor restaurant.
Use these suggestions to plan your next outing with your parent, grandparent, or elderly friend. Encourage them to help you prepare. Ask them questions: What was something you enjoyed doing when you were younger? What is something you always wanted to try? They may not be asked these questions very often. If you get some resistance, just say with a smile that it would make you very happy to do this with them. Have some suggestions prepared to choose from, and then head outside and enjoy the day together!