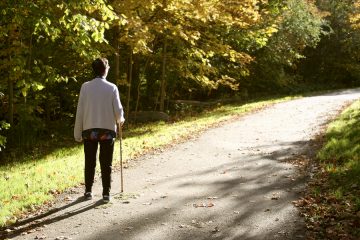 When it comes right down to it, wandering is the method that aging adults with dementia use to combat some of the anxiety and stress they deal with as their brain tries to sort out reality from memories. With dementia, the brain confuses the past and the present, and often those memories are much stronger. This leads seniors to believe that people and places of the past are more real, and they feel the desire to get elsewhere quite strongly. If the desire to go is strong enough, it can prompt elderly adults with dementia to wander off.
Wandering is dangerous for seniors in many ways, as it exposes these vulnerable adults to unfamiliar settings, a range of people both friendly and not, and to dangers in the landscape such as traffic and construction sites. Once seniors are outside the safe space of their home, they often don't know where they really are. They may mistake helpful people as people to be afraid of and try to flee from police who have been called in to help. All in all, it's much better for family caregivers and homecare providers to prevent wandering in the first place.
The first step to prevent elderly adults with dementia from wandering is to ensure they are not left alone. If a family caregiver cannot be with their aging relative all the time, they need to hire homecare providers to be there. Homecare providers are professional and experienced in dealing with seniors who have dementia. It is difficult to diffuse the confusion and anxiety of someone with dementia, but a good schedule and plenty of activities can often keep elderly adults focused on the present instead of fixating on the past.
Of course, no matter how attentive a person is, there are always opportunities for elderly adults to slip out. It's important for family caregivers and homecare providers to come up with ways to stop seniors from getting outside, or at least make them slow down enough so caregivers can react. Some of the most effective methods include:
Installing locks on outside doors
Putting in small alarms that signal when an exterior door is opened
Helping an elderly adult wear a location tracking bracelet or watch
Notifying neighbors about the elderly adult's tendency to wander and giving out a phone number to call if they see them unaccompanied outside
Tucking shoes out of sight to discourage an elderly adult from leaving the home
Providing the local police with a current picture and a notification that the elderly person tends to wander
Having an "important" activity on hand to encourage and redirect the senior, asking that they do the task "before they go"
Having some kind of identification on the aging adult that reveals their name and address, such as a patch, temporary tattoo or an alert bracelet.
It's not easy to provide care for an elderly adult with dementia, but with enough steps in place to thwart wandering, the danger to their health and wellness can be minimized and they can remain at home where they are safe.
If you or an aging loved-one are considering Homecare in Roseville MI, please talk to the caring staff at Hope Senior Home Care today 313.881.3132.