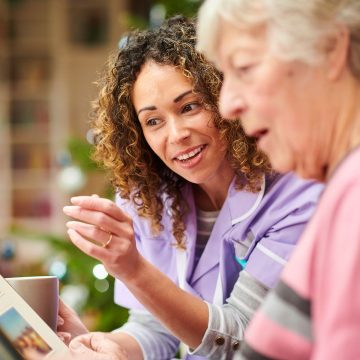 As rewarding as providing care for an aging loved one can be, sometimes it is essential to take a step back and take care of yourself. When caring for a loved one, you often miss social activities, ignore your health care needs, and become isolated. Increased fatigue and frequent illnesses can signal that you are experiencing caregiver burnout. Perhaps it is time to consider Respite Care Services.
What is Respite Care?
Respite care provides short-term relief for unpaid family caregivers. You may need just a few hours a week to recharge, or perhaps a vacation to get away from it all is just what you need. Respite care gives you the time you need to take care of yourself.
Types of Respite Care
Companionship Care – Someone to spend time with your loved ones, bring them to social activities, run errands, and encourage them to exercise.
Activities of Daily Living – A person to assist with bathing, dressing, and preparing meals. Having someone provide these services allows your visits with mom or dad to be focused on things you enjoy doing together.
Medication Assistance – Ensuring that your loved one is taking their medication correctly requires a daily visit (or 2), and it can be difficult for you to provide that 365 days per year. A little help can free up some days where you can focus on your health and wellness.
 To care for those who once cared for us is one of the highest honors. However, you cannot pour from an empty cup. If you feel the effects of caregiver burnout, it may be time to seek respite care. You will be a better caregiver, and your loved one could also benefit from the support.