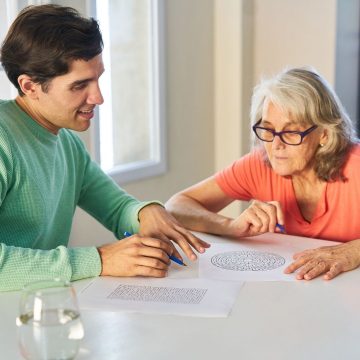 With almost 20 years of providing care to hundreds of families, we have experienced many different caregiving journeys. I would like to share the story of David, whose mother was diagnosed with Alzheimer's. When David first called us, he was frustrated and unsure how to move forward. David had always been close to his mother. She was a pillar of strength in his life, and he cherished their deep bond. As her memory started to fade, their world was turned upside down. Witnessing her cognitive decline was heartbreaking for him. The mom, who had once been sharp-witted and full of life, now seemed lost in a maze of forgotten memories. It was a devasting reality that David struggled to come to terms with.
As his mother's primary caregiver, he faced the difficult decision of choosing the best care arrangement for his mother. He could no longer provide care for her by himself. He grappled with the dilemma of keeping her at home with him or transitioning her to a memory care facility. He knew that Alzheimer's was a progressive disease and that this could be a long, difficult journey.
We helped David to consider the pros and cons of each option. Ultimately David decided to keep her at home with in-home caregivers to support her care needs. The familiar environment brought great comfort to his mom. He understood that if the time came when he felt a memory care community would be necessary, we would support him and help him to find the right environment for her. We are here to support David and his mother wherever their journey goes.
With the help of some amazing caregivers, David was able to find some relief from his role as her full-time caregiver. The caregivers established a daily routine for his mother. Consistency and structure can bring a sense of stability. David and the caregivers worked together to plan engaging activities tailored to his mother's abilities and interests. And when David would return home at the end of the day, his mother was rested, and they could enjoy quality time together, sharing cherished memories.
David's journey with his mother's Alzheimer's disease taught him the value of stability and routine. It has provided a lifeline of love and connections amidst the challenges of the disease. Through his unwavering commitment, he has created a sanctuary of familiarity for his mother. There are good days and bad days, but David is grateful for the support from caregivers and the connections we have helped him find with others dealing with loved one's with Alzheimer's.