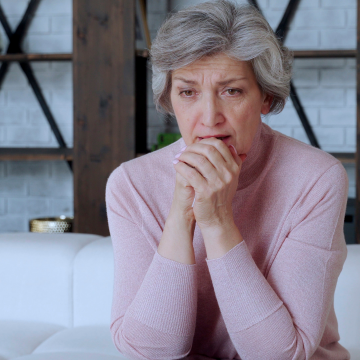 May is Mental Health Awareness Month. While mental health concerns affect up to 1 in 5 Americans, it is often overlooked in our elderly population. It is estimated that 20% of people aged 55 years or older experience mental health concerns. The most common conditions include anxiety, severe cognitive impairment, and mood disorders such as depression. Often these concerns are disregarded as old age or frailty, however, this is not a normal part of aging and is a treatable medical condition. It's important to recognize the signs of mental illness in older adults, as they can differ from their younger counterparts. The elderly have a different set of considerations relative to mental distress and the contributing factors are often misunderstood.
Depression and Isolation- The changes that affect us as we age can sometimes lead to depression. Events later in life such as chronic illness, the loss of loved ones, and the inability to participate in once-cherished activities can lead to isolation and depression. While aging is an inevitable part of life, depression need not be a part of it. Early detection can prevent serious consequences.  Here are some suggestions to help avoid the effects of depression. Keep your brain stimulated by engaging in Soduku, Word Search puzzles, or Bingo games. Enjoy some time with others. As our loved ones age or pass away, it is common to socialize less often. Explore activities offered by your local Senior Centers where you can meet new people and participate in appropriate exercises for any limitations that you may be experiencing due to aging.
Anxiety – Feelings of fear in the elderly are a common emotion and a normal stress reaction. It is normal to experience some worry, but when someone feels anxious and becomes overwhelmed, it can affect their ability to perform daily living tasks, limit their social activities, and creates tension in their relationships. Older adults who think they may be suffering from anxiety should consult their physician. Anxiety can be treated with medication, therapy, stress reduction, and coping skills.
Elder Suicide – Suicide in older adults is often triggered by their loss of control over health conditions, financial difficulties, or the loss of loved ones. This can lead to a feeling of hopelessness. A person who may be thinking about suicide likely does not want to die but is searching for some way to make their suffering go away. It is crucial to identify signs of suicidal thoughts in your loved one and take appropriate steps to prevent them from acting on these thoughts. Some symptoms to look for are feelings of hopelessness and a lack of interest in future plans; feelings of loss of independence or a sense of purpose; social isolation; sudden personality changes; and increased alcohol and medication use. Timely and appropriate intervention can prevent suicide, and addressing issues sooner rather than later often results in better outcomes.
Good mental health contributes to an overall feeling of well-being. Don't ignore signs of depression or mental health in your elderly loved ones. This does not have to be a part of the aging process; healthy older adults can continue to thrive, grow and enjoy life!  If you think you or your loved one may be suffering from mental illness, you should seek medical attention immediately. With therapy and treatment, you can work toward positive outcomes.
This is not intended to serve as medical advice.