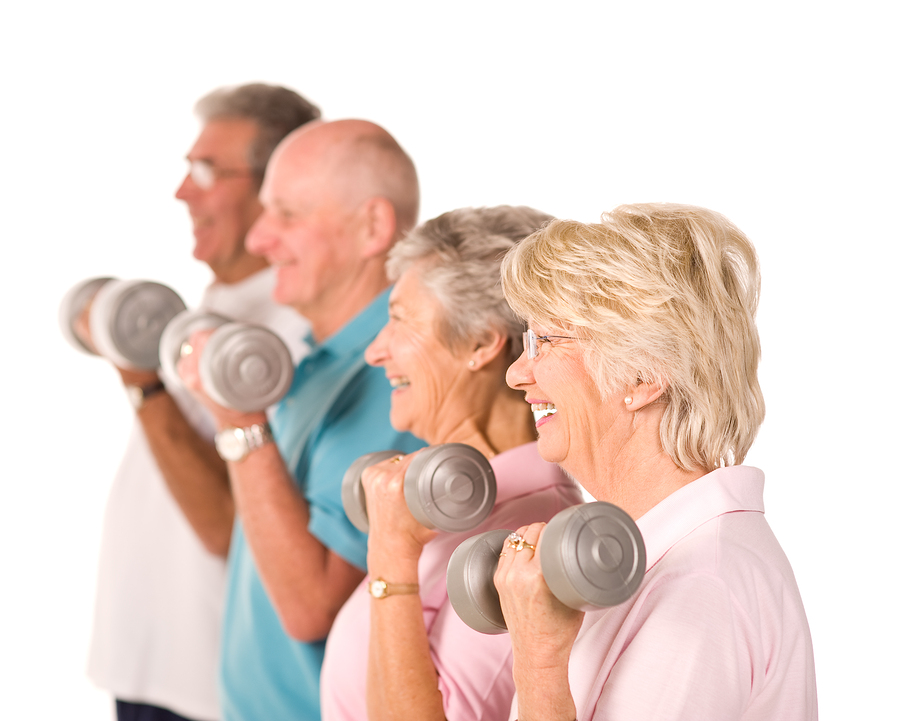 January is Shape Up Month and if you have a senior loved one that wants to get healthy and active this year weight lifting or working out with weights should be part of their plan. Aerobic exercise is a struggle for many seniors, but resistance training or weight training may be easier. Weight training has some big benefits for seniors. Even just working with light weights can help seniors stop muscle loss, burn calories, and get fit. Having personal care at home services can be helpful in overseeing their plan.
According to fitness experts the most important things that seniors should know about weight lifting or weight training are:
Talk To Your Doctor First
Before starting any type of resistance training workouts your senior loved one should talk to their doctor about the types of exercise they are able to do. It's important that your senior loved one's doctor gives them the ok to start any type of exercise regimen. It's also a good idea for your personal care at home aide or a family caregiver to be there when your senior loved one is talking to the doctor about exercise so that you know what the doctor recommends. The doctor may suggest certain kinds of exercises that would benefit your senior loved one the most.
Start With Very Light Weights Or Body Weight
Seniors should always start with very light weights when they start weight training. Another option is to just use their bodyweight and perform the exercises that a trainer or therapist recommends. Even light weights can make a big impact when it comes to exercise. Over time your senior loved one can move up to heavier weights if that's appropriate for their health and activity level. But many weight training exercises are very effective just using body weight.
Work With A Professional Trainer Or Therapist and Personal Care at Home Aide
Resistance training is quite a different workout from going for a walk or riding a bike. It's strongly recommended that seniors work with a professional trainer or physical therapist that is trained in dealing with the elderly. A professional fitness instructor or therapist can create a weight training workout that will be tailored to your senior loved one's physical condition and the medical conditions that they have. A physical therapist or trainer will also be able to make sure that your senior loved one doesn't hurt themselves by doing the exercises incorrectly. If your senior loved one has trouble getting to a gym or senior center for a workout on their own a personal care at home provider can help and can oversee their workouts.
Go Slow
Weight training is a type of exercise where progress isn't necessarily fast and the best results come over time. Make sure that your senior loved one goes slowly, follows the advice of their trainer or therapist, and works diligently to build up their muscle strength. If your senior loved one can follow a slow but steady weight training regimen they can lose weight, stay strong, and stay active as they get older. To help them stay motivated to continue their weight training you may want to join them for weight training workouts.
Source: https://www.verywellfit.com/strength-training-benefits-and-guidelines-for-seniors-1230954
If you or an aging loved one are considering Personal Care at Home Services in Michigan, please talk to the caring staff at Hope Senior Home Care today 313.881.3132.