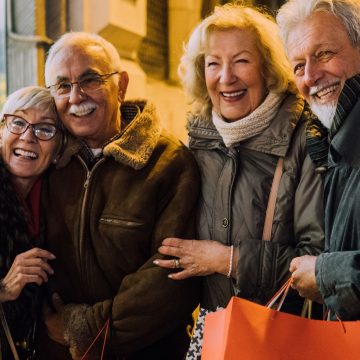 Tips for Safe Holiday Shopping with Your Senior Loved One
With the holidays upon us, we are all geared up for some Holiday shopping. When you hunt for gifts with your aging loved one, be merry and wise by implementing some safe shopping tips!
1. Spread the Joy. You may find that you have an extensive Christmas Gift List this year. Spread out the joy of shopping over several days. A full day of shopping will only wear your loved one out!
2. Get a Head Start. Last-minute shopping will only stress you out. Start early and ease the load. It would be best if you started with some online shopping. Assist your loved one with picking out some items online and then head out for a more leisurely day of shopping later on.
3. Bring along some family or friends. Shopping with a group will make the day more fun. You will make some beautiful memories and add to the festive feeling.
4. Shop during the day. The stores are less busy during the day and on a weekday. Pick a time when you won't be burdened with a large crowd.
5. Get Help from a Caregiver. If your loved one has mobility issues, it is helpful to have extra assistance. They can assist them with any bathroom needs or stay with them if they need to rest while you do your own shopping. The additional support will be much appreciated.
The Holidays are meant to be spent with family and friends. A shopping excursion might be just what they need to get into the holiday spirit. The quality time together will be special for both of you.