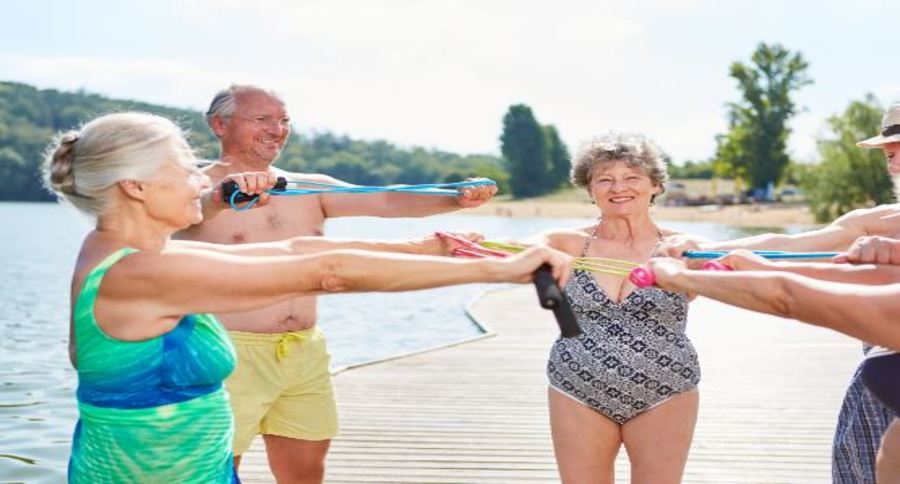 Warm weather is finally upon us and as Michiganders, we know the importance of spending time outside. However, hot summer weather can be challenging for the elderly as they are more vulnerable to dehydration and heat-related illnesses like heat stroke and heat exhaustion.
Below are some ways to keep your loved one active, healthy and safe this summer:
Hydrate, hydrate, hydrate. Dehydration can lead to several serious complications, such as heat exhaustion or increased risk of a fall, particularly among seniors. Senior citizens are generally more susceptible to dehydration than younger adults because of changes in the way the body regulates its temperature and a reduction in the amount of sweat produced. Make sure to bring water with you if you are on an outing or to leave some out for your loved one.
Staying active. Depending on the temperature, there are several activities for your loved one to take part in. Community pools are an ideal way for seniors to stay active in summertime and stay cool. They also offer the opportunity for seniors to swim laps and participate in water aerobics. If the temperatures are high, taking a walk around the mall or store is a way for your loved one to keep moving and cool.
Dress cool. Now is the time to go through your loved one's clothes to switch out their winter clothes for summer ones. If you are going out, make sure your loved one is dressed in light clothes and has sunscreen on-hand.
Check on their house and medicines. Checking that seniors have regular access to air conditioning (AC) is important to help them avoid dehydration and other heat-related illnesses. In hot weather, a fan is not enough to stay cool, so check that the home AC system is functioning properly. Some medications need to be stored in cool places, so make sure that they are moved accordingly if need be.
Most importantly, enjoy summer! By taking certain precautions, your loved one will be able to have memorable and safe fun in the sun.