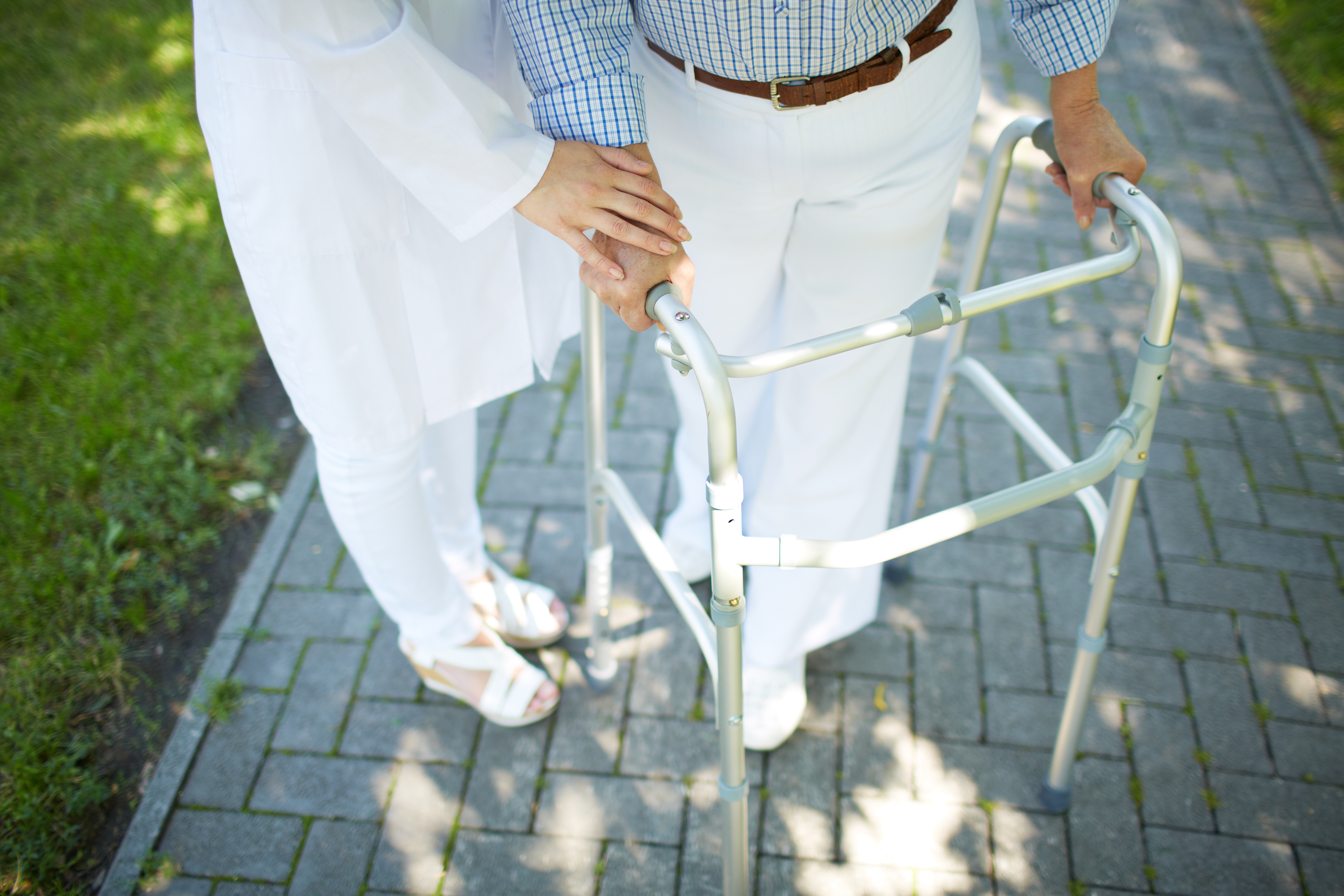 Preventing falls is often on the top of the list when it comes to family concerns, and it can become a huge undertaking when renovations get involved. One of the biggest topics of concern is flooring and what type of flooring is best suited for a "fall risk" senior. This article from "The Spruce" lays out all of your options, with the pros and cons of each flooring choice. We are not affiliated with "The Spruce" but check them out for any renovation ideas, tips and tricks (not only senior related).
---
The Best Residential Flooring Options For Senior Citizens
Choosing a flooring material for aging in place doesn't need to be complicated. The trick is to consider five main factors and to prioritize those factors for each type of flooring and how and where you will use it. The five factors are:
Slip-resistance—Is it a non-slip surface even when wet?
Ease of travel—Is it easy to move over with a cane, walker, or wheelchair?
Cleaning and maintenance—How much work does it require?
Comfort—How does it feel underfoot?
Cushion—Does it offer some shock absorption in the event of a fall?

For example, if you're looking for bathroom flooring, it's most important to choose a non-slip material that's easy to walk on and is easy to clean and maintain. In a hallway, ease of travel may be most important, while in a living room, comfort may be the top consideration.
Benefits

Soft: Carpet is a very cushiony material that is comfortable underfoot and provides some protection against injury from falls.
Warm: Carpet is relatively neutral when it comes to temperature: it doesn't retain heat or cold like many hard flooring materials. While it doesn't insulate against cold, it's much nicer on a cold morning than ceramic tile, for example.
Quiet: Carpet absorbs sound and is virtually silent to walk on.

Drawbacks

Air quality: The fibers of carpeting tend

 to collect dirt and dust that floats through the air, and it is difficult to remove all dirt with a vacuum. This can be problematic for people with severe allergies or respiratory sensitivities. 

Cleaning:

 Carpeting doesn't do well in wet areas, like bathrooms, or in wet 

and

dirty areas, like kitchens. It stains very easily and is difficult to deep-clean, which usually requires a professional carpet cleaner. 

Travel: 

Wheelchairs don't roll as well over carpet as over hard flooring. Long-pile carpet can present a trip hazard. Because of this, carpet for senior citizens should be no higher than 1/2-inch, and the padding should be firm and not too thick.   

Benefits

Softness: Cork is in between a hard and soft material. It has a smooth, washable surface but offers some cushion underfoot. It's also not as loud as very hard materials and offers some thermal and sound insulation properties.
Smooth travel: Cork is hard enough for efficient wheelchair travel, and it won't catch feet like carpeting can.
Cleaning: As long as a cork floor is properly maintained, it is relatively easy to clean and care for. The sealant over the surface protects the

 porous material from stains, and all that is necessary is to do is sweep or vacuum regularly to keep it looking its best.

Drawbacks

Water and damage:

 

Because cork is so soft, it can be damaged relatively easily by punctures from furniture legs, pointy heels, or any sharp object poking or scraping its surface. It's only moderately resistant to water: Spills should be wiped up immediately, as standing water can get into the seams of the flooring tiles or planks and damage the material's core.

Benefits

Cleanliness: Linoleum is easy to clean and maintain. It doesn't hold onto dust, pollen, and other air contaminants like carpet does.
Durability: Linoleum is water- and stain-resistant enough to work well in kitchens and bathrooms, but standing water can get into the seams of linoleum tiles and planks. Sheet linoleum is more water-resistant.
Smooth and hard: Linoleum has a flat, smooth surface and is installed directly over subflooring or wood underlayment, so it is good for

 wheelchairs and walkers. 

Natural: 

Many homeowners like the fact that linoleum is made with natural materials, such as linseed oil, pine rosin, and cork or jute. This makes it a natural alternative to its closest cousin, vinyl flooring. 

Drawbacks

Cost:

 Linoleum can be a relatively expensive flooring material, starting at around $3–$4 per square foot for the material itself, not including installation.

Hardness: 

While not as hard or cold as tile, linoleum offers very little cushion and can be relatively cold underfoot. 

Benefits

Cleaning and durability: Vinyl offers the same hard-wearing and low-maintenance benefits of linoleum.
Water-resistance: Vinyl is a highly water-resistant material, and high-quality luxury vinyl is virtually waterproof. However, the seams in vinyl tile and planks can let water through to the subfloor, so standing water can be a problem. In bathrooms, sheet vinyl is ideal because it doesn't have seams except along the edges of the room.
Cost: Vinyl covers a wide price range but is

 generally one of the most affordable flooring options, and it lends itself to DIY installation. 

Hardness:

 Vinyl is relatively hard and smooth, making for easy travel, but it's not as hard or as cold as tile.  

Drawbacks

Look and feel:

 

Vinyl is plastic, and it looks and feels like plastic. That's probably why it's primarily used in kitchens, bathrooms, mudrooms, laundry areas, and entryways but not in living rooms.

Benefits

Safe: Rubber flooring is typically used in gyms where it's important to have a surface that's safe for vigorous physical activity. It is both shock- and slip-resistant.
Durable: Rubber flooring is hard to damage, with furniture, equipment, or water. However, the seams are vulnerable to letting water through to the subfloor. It can be laid over concrete, adding comfort and safety to outdoor areas and basements.

Drawbacks

Cost: Rubber flooring can be pricey. Basic snap-together

 tiles can be relatively affordable, and they're very easy to install yourself, saving the cost of professional installation.  

Look and feel: 

Rubber is anything but cozy. It also comes in very limited styles, colors, and textures. 

 Benefits

Hard but natural: Wood, bamboo, and laminate flooring is a hard surface with a soft, natural look. It's generally easy to clean and maintain and doesn't get as dirty as carpet.
Beauty: You can't beat the look of real hardwood or bamboo flooring. Laminate looks pretty good, too, and at a fraction of the cost of real hardwood or bamboo.
Cost (laminate): Laminate can cost less than $1 per square foot, but you should spend a bit more for decent-quality material.

Drawbacks

Flooring Materials For Seniors To Avoid

Natural stone: A very hard and unyielding material, natural stone also requires regular maintenance to keep the material clean. Polished stone flooring is extremely slippery when wet.

Ceramic or porcelain tile: Tile is extremely hard-wearing and highly water-resistant, but it's a very hard material and is cold underfoot. Tiles with wide grout joints or uneven surfaces can be a trip hazard. Standard tile is very slippery when wet. If tile is used anywhere it should have a coefficient of friction (COF) of 0.6 or higher for slip-resistance. 

Area rugs and transitions: Area rugs can be slippery on hard floors and can easily bunch up to create a serious trip hazard. With any flooring material, you should avoid tall transitions between rooms or different materials; floors should be as flush as possible, for both ease of travel and to prevent tripping accidents.